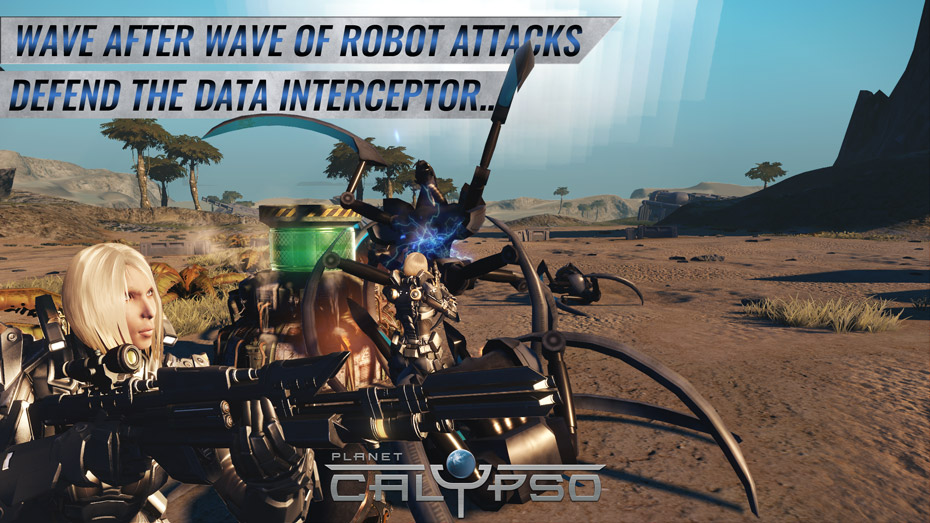 Easter Mayhem 2018
Defend the Data Interceptor!
---
Steadily decreasing robot excavation of DSUs (Data Storage Units) has been reported at the Hadesheim crater this year. Recently, this excavation came to a complete stop. It appears all DSUs have finally been extracted and depleted — there are simply no functioning DSUs left. Without information from the DSUs to guide us, the precious technology in the hidden RX caches is unreachable. For now.  
Instead, the CDF has a new plan of attack: tap into the heart of robot communications at Hadesheim - the Base Matrix.
The Grid Theory formulated by Archibald Levetnik (A.K.A. 'Grid-Man') identified the significance of Base Matrix 'node areas'. One of these node areas was secured by colonists via the successful repulsion of Steelbirds and Attackers. Once the general area was cleared the CDF established the node's precise location.
We now plan to deploy a specially designed communications array directly above the node's location: a Data Interceptor. The Data Interceptor will tap into the Base Matrix network and gather intelligence data. The operation will begin immediately after the Data Interceptor has the been given the green light for deployment.
 
Of course, the robots will return to eliminate it.
Knowledge is power. We must know our enemy.
That is why — when the time comes — we must defend the Data Interceptor.
/Brig. General de Souza

Event Dates
Mar. 29, 13:00:00 UTC - Easter Mayhem 2018 begins.
Apr. 09, 13:00:00 UTC - Easter Mayhem 2018 ends.
Apr. 17 - Final event results announced. Prizes awarded in the following days.
Head over to the Easter Mayhem 2018 event page for full event details, prizes, rules and info.